Fashion brands always need to use and build content that inspires customers. This is also a branding tactic for fashion brands that should not be ignored. By then, fashion facebook pages are "mushroomed" and many businesses apply Fashion facebook page advertising service to bring their fanpage up in effectiveness.
Measures to grow the facebook page 
Fashion is a tool to be more beautiful
People buy fashion clothes to be an integration community that knows how to live and enjoy, not just simply to avoid cold and heat.
Customers buying fashion products are essentially buying the desire to be pretty more and gain respect. So how to meet this need?
Businesses catch on this weakness with stylish and trendy Fashion facebook page advertising in the advertising images on fanpage. Make your customers aspire to be as beautiful as they are in photos by purchasing products in your store! Therefore, you can refer to the following tips:
If you have a store, you do not need to show all product photos on the Facebook page. Know how to choose the best products and images to post
If you only sell online, you can create an album containing all your product photos and in new posts there will be links to that album.
You should have a variety of product photos to keep your potential customers
Create themes and meaningful photo sets. This is one of the fastest ways to spread your message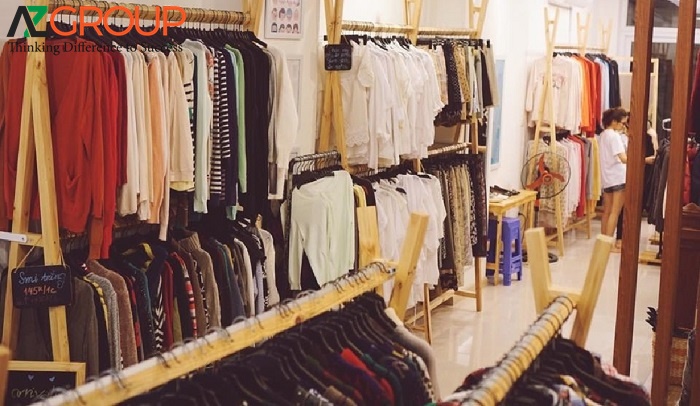 Smart community development
To do business on fanpage, you will definitely have to own yourself a professional Facebook page. However, is it good for sales if a Fanpage has a large fan base? This is probably the most common anxiety of all shop owners and businesses.
Owning a facebook page with a large fan base is an extremely great thing because it helps you build trust in new customers for the first time as well as increase your chances of converting potential audiences into real customers. However, you need to keep this in mind, these numbers are considered "good" only when gathering fans selectively from begining.
Regularly organizing activities to increase interaction and brand awareness. These could be mini events or mini games with different promotion programs.
Building and Fashion facebook page advertising according to skillful content around the product to create a bond with fans and make them love your brand more.
Spreading the target message
Always research carefully the habits and online behavior of Facebook users and combine with the tools to support Facebook Marketing to build the most potential customers. Answer the following questions yourself: Who are my potential customers? Which facebook pages do they usually interact with?
Divide potential customers into the most relevant groups. Then, we build Fashion facebook page advertising messages that exactly meet their needs.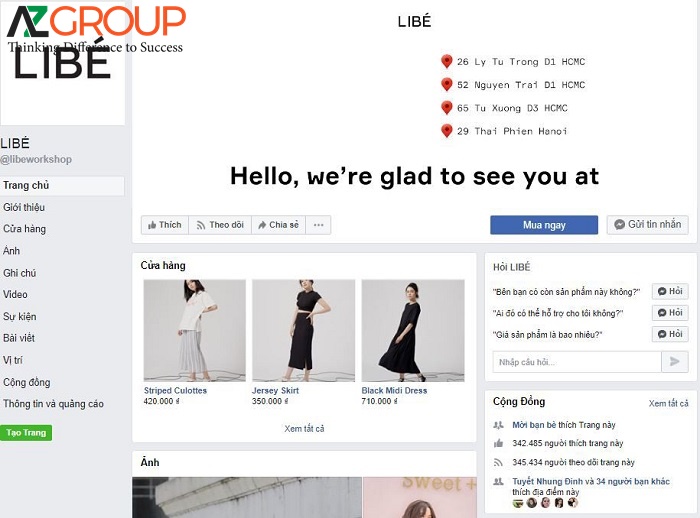 Always follow the market
Always follow your competitors' activities on Facebook to change, learn and absorb their strengths and weaknesses. Facebook is providing you with tools to keep track of other competitors. In addition, Facebook pages can also be used as a channel to attempt the market.
Before you intend to import a certain sample, why not upload a few pictures of that sample on the Fanpage and see which samples are most awaited by fans before launching a good product. most accurate. That is the wisest Fashion facebook page advertising.
Why should choose the Fashion facebook page advertising service of AZGroup?
In the fashion e-commerce industry, you need a good quality product and great content to sell that product. You have to create a lot of content every day, especially content that inspires customers with a high mood to buy. Therefore, the fashion facebook advertising service will meet all the facebook pages needs of your business.
With Fashion facebook page advertising service for businesses at AZ GROUP, customers who want to advertise on the facebook page should choose a reputable and quality advertising agency for the promotion process to be done quickly and at the cheapest price.
AZ Group is an agency providing fashion facebook page advertising service packages at a very affordable price for all partners.
With a package service, the total cost for all advertising activities on brand image on fanpage.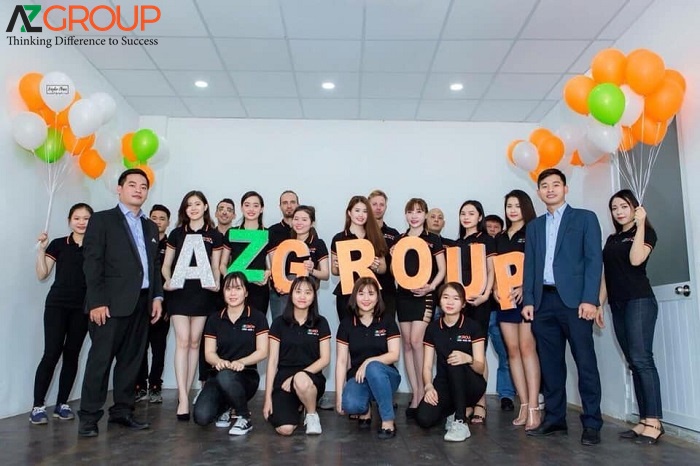 The fashion facebook page advertising process of AZ Group
We offer Fashion facebook page advertising service with a professional process:
The process at AZGroup:
Step 1: Survey fanpage needs
Step 2: Make detailed plan and quote facebook page
Step 3: Sign the contract and commit KPI
Step 4: Implement and control facebook page
Step 5: Evaluate and complete the contract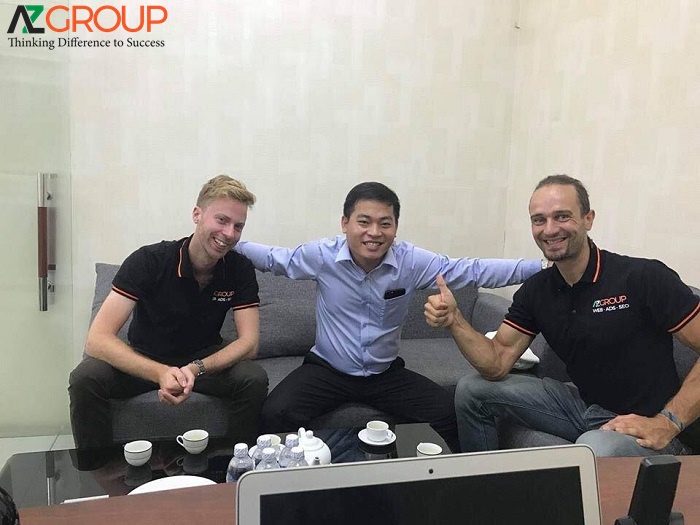 Commitment of AZ group
Ad distribution to the right potential audience, promoting fanpage effectively

Get free advice to optimize fanpage advertising

Get exact keyword checking tool and free from facebook page

Receive highly competitive advertising, difficult advertising, many virtual clicks

Fanpage ads are displayed after 5 minutes of setup

AZ GROUP is a senior partner of facebook in Vietnam

The support team is enthusiastic and honest.

Keep secure strategy of the clothing shop fanpage advertising service and customer information

Receive reports directly from the reporting system of facebook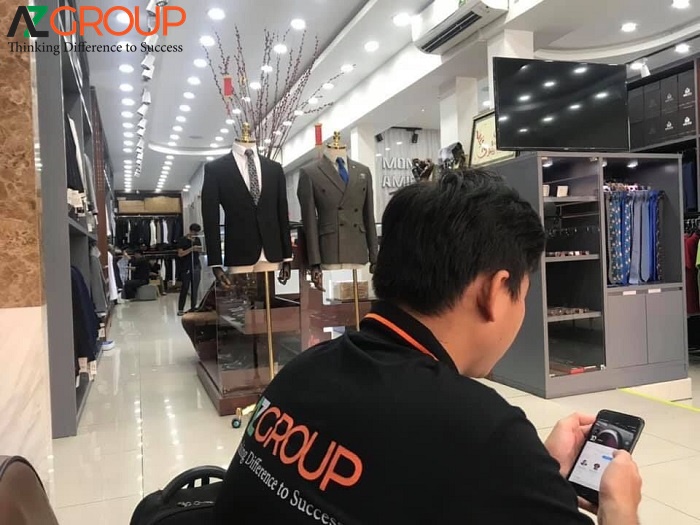 Partners of AZ GROUP
At AZGROUP, we are proud to be a long-established agency providing prestigious and professional Fashion facebook page advertising service.
Our partners have implemented Google advertising strategies such as:
Viet Phu An Group

Daii-chi Life Viet Nam

SaiGon CoCo beauty salon

Viet My Dental

Designer Si Hoang
If you want to cooperate with us please contact us immediately for clear advice and quotation.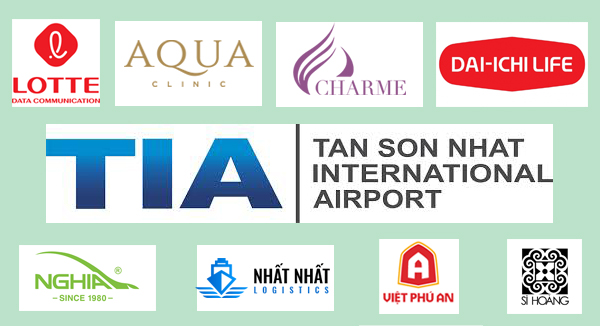 Contact Information
AZGROUP COMPANY
Address: 132-134 Điện Biên Phủ, Đakao ward, District 1, TP.HCM
Hotline: 0969.68.79.69 – 0286 273 3456
Email: info@azgroup.net.vn